Photo Gallery - Listing ID 65524633
Price: $7,900,000

Status: Active

Address: 3 Longbow Lane

Houston

,

Texas

77024

-5722

Bedrooms: 6

Full Baths: 6

Total Baths: 6.1

Partial Baths: 1

Acres: 3.315

SqFt: 7,732
[Rear Elevation / Swimming Pools]Two circular swimming pools, deep and shallow, are connected by an underwater tunnel. Swimming through that tunnel was a challenging rite of passage for the Liedtke children and their friends, and in later years, continued as a challenge for their grandchildren. Stone walls separate the Morelia stone pool deck from the lawn behind the main house, and corresponding stone walls rise to the pool deck from the natural woodland and bayou shore below.
[Front Elevation]This impressive home was designed for the owners by the architect O'Neill Ford. Past a whitewashed brick wall with an iron gate, the front façade, soaring walls of whitewashed brick punctuated with carved architectural elements and capped with a sloping copper roof, surrounds a double-height, antique, carved wood front door framed by Tezontle stone.
[Side / Rear Elevation]This view reveals the slider glass doors opening from the dining room as well as the entrance into the kitchen. Note metal staircase ascending to the second floor sixth/staff bedroom suite.
[Front Door]Antique, carved wood front door framed by Tezontle stone is flanked by carved stone architectural elements sourced in the Guanajuato area of Mexico.
[Foyer]A reverse view of the front door from the foyer reveals the carved lead and copper plates, created by Ford's brother, Lynn Ford, that panel the inside of the front door.
[Foyer / Atrium]The grand scale of the atrium at the core of the house conjures the magnificent courtyards of Mexico's colonial haciendas. Authentic white plaster walls and massive columns of Tezontle stone rise more than 32 feet through the upper gallery to support the beamed wood ceiling and enormous skylight. The Saltillo tile floor extends into the glass-walled family room and kitchen at the rear. Animal and bird footprints skitter across some of the tiles.
[Living Room]A wide opening accesses the living room where generous space allows multiple seating areas. Recesses for furniture or art flank the living room's carved stone fireplace, and massive wood double doors open into the adjoining study.
[Living Room 32 x 23]Wood framed glass slider doors allow scenic views and access to pretty side patio and gardens. Note fir beams and ceiling. The chevron pattern mesquite floor was cut on site and "distressed" by the owners' children who skated (metal skates) across it.
[Living Room Fireplace]The antique stone and masonry fireplace was sourced near Guanajuato, Mexico.
[Living Room]This view travels across the living room through massive mesquite doors into the adjoining study.
[Dining Room 20 x 20]A wide opening from the atrium leads into the expansive dining room where wood-framed slider glass doors overlook side and gardens. Note fir beams and ceiling.
[Entry to Family Room]Massive carved wood doors open from the atrium into the family room at the rear of the home.
[Family Room 31 x 26]The family room features a Saltillo tile floor, a double-height shed ceiling, and a double-height wall of wood-framed windows overlooking the gardens and pools. Doorway at right leads into the study; doorway at left leads into the kitchen.
[Family Room]The most spectacular feature in this impressive room is the enormous, whitewashed brick fireplace, copied from an old silver mine smokestack in Mexico, that reaches the apex of the shed ceiling and is encircled by a wood and wrought iron staircase.
[Family Room Fireplace] Note the open-sided second-floor gallery.
[Study 19 x 16]Appointments include a kiva-style brick fireplace with an asymmetric overmantel and a recessed Saltillo tile window seat. A handsome bar, concealed by pierced-wood screens crafted by Lynn Ford, offers a marble deck, stainless steel sink, and glass shelving. Floor-to-ceiling bookcases feature fall front desks.
[Study / Fireplace]A closer view of the kiva-style fireplace in the study.
[Study]This view travels from the family room into the study. Note the pierced screens on the bar and the antique, chevron-pattern mesquite floor reclaimed from an abandoned church near Guanajuato.
[Butler's Pantry]The butler's pantry connects the kitchen, dining room, and atrium, and provides abundant marble countertop space and cabinet storage for wine, stemware, dinner ware, and silver. Note fir-wood cabinetry and brass olive knuckle hinges.
[Kitchen 21 x 14]Spacious and well appointed, the light-filled kitchen was designed to serve large gatherings as well as daily family living. Features include a Saltillo tile floor; Talavera tile backsplash; sleek cabinetry; a central island with stainless steel deck, gas cooktop, a two-burner electric cooktop, and hooded warmer light; an eat-in bar counter; cabinet-front Sub-Zero refrigerator and freezer; and extensive pantry storage.
[First-Floor Primary Suite 20 x 17]Overlooking its own patio and garden, the expansive, first-floor primary suite, accessed from a short hall that branches from the foyer, provides a secluded and serene retreat. Beneath a two-story, beamed shed ceiling, the suite has a bedroom with a sitting area, a row of tall wardrobe closets, and a dressing room.
[One of Two Primary Baths]This full bathroom in the primary suite features a walk-in closets, carpet and Saltillo tile floors, marble sink deck, and Talavera tiles arrayed around the bathtub.
[Dressing Room]This dressing room adjoins the primary bedroom and features a walk-in closet.
[One of Two Primary Baths]This bath also features Saltillo tile floors, marble sink deck, and Talavera tiles arrayed on the shower.
[Gallery] Stone columns soar above the second-floor gallery to help support the ceiling, Plexiglass-paneled skylight, and thick cross beams with tin or lead engraved caps fabricated by Lynn Ford. Striking Mexican pendant and sconce lighting illuminates the gallery and deep closets with tall solid wood doors provide concealed storage.
[Gallery] A view from the gallery travels to the front door.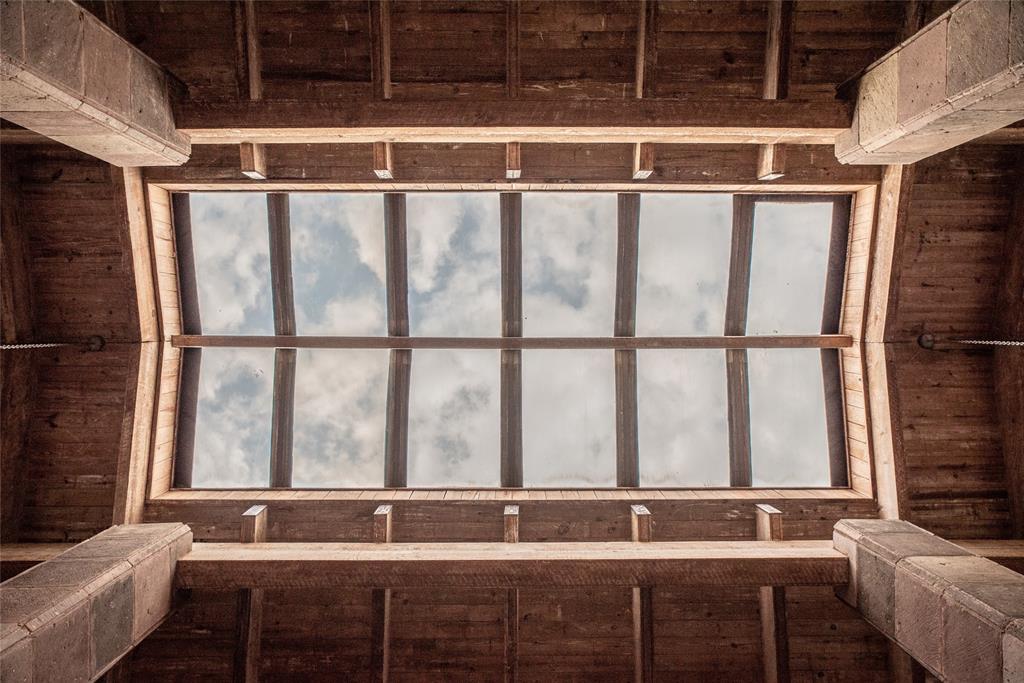 [Gallery / Skylight]This enormous plexiglass skylight soars above the gallery, infusing the core of the house with natural light. Fir beams have tin or lead engraved caps fabricated by Lynn Ford.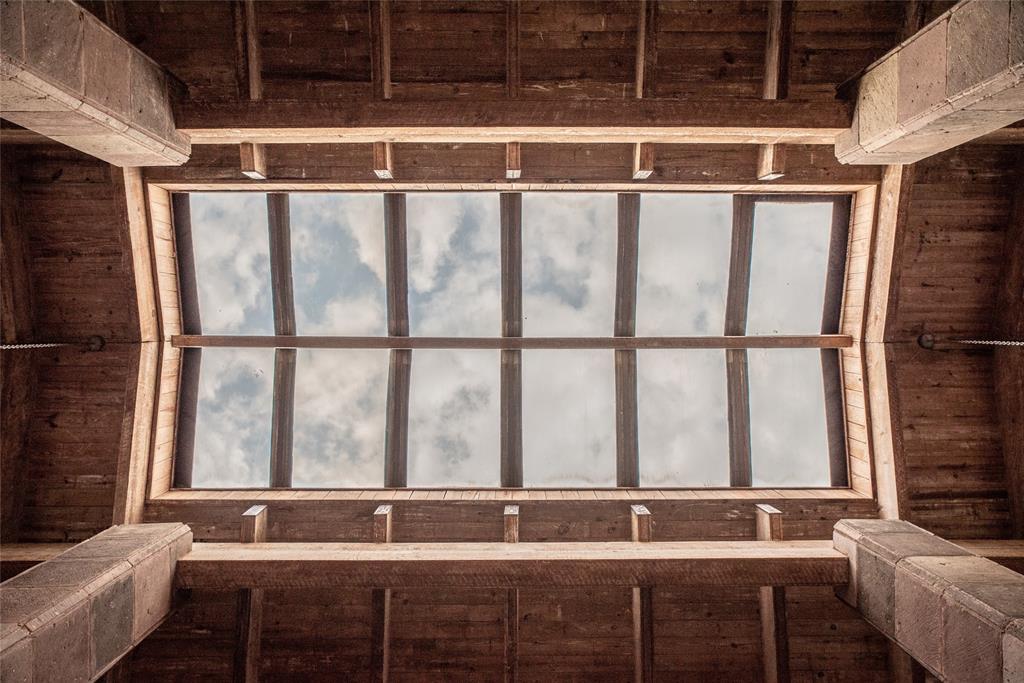 [Second Bedroom Suite 21 x 19]Two pairs of bedroom suites face each other across the upper gallery. This suite has a fir beam and plank ceiling, window seat, a dressing area with vanity and closets, and a bath lavished with Talavera tile.
En Suite Bath]The second bedroom's bath and dressing area.
[Third Bedroom Suite 20 x 14]A kiva-style fireplace and shed ceiling enhance this en suite bedroom.
En Suite Bath]Third bedroom's bath has a dressing area, closets, and a bath covered in Talavera tile.
[Fourth Bedroom 21 x 15]This bedroom as a shed ceiling, a built-in desk and bookshelves, and a row of deep closets. It shares a spacious Hollywood bath with an adjoining bedroom.
[Hollywood Bath]This spacious Hollywood bath connects the fourth and fifth bedrooms. Features include double sinks and colorful Talavera tile in the large shower as well as in the separate bathtub with shower.
[Fifth Bedroom 21 x 14]This bedroom also has a row of deep closets plus a long window seat.
[Sixth/Staff Bedroom Suite]This bedroom has an en suite bath and an outside entrance from an exterior iron staircase.
[Pool House]The inviting pool house faces the pools and has a seating/dining area; a bar with sink, grill, under-counter refrigerator niche; and a raised deck at the rear.
[Pool House]Living/dining area. Ford installed bóveda ceilings in the pool house. The bovederos who constructed these vaulted brick ceilings were masters of their trade and zealously guarded masonry techniques handed down through generations. Unlike conventional brick vaults, bóvedas are not centered and have no form of support. Specially made bricks are placed by hand with geometric precision, and measurements are taken by the arc of a bovedero's swinging arm and the brim of his hat.
[Bóveda Ceiling]A closer view of one of the bóveda ceilings in the pool house. The bóvedas caused an uproar among Houston brick masons who simply did not believe the non-union bovederos should be allowed to do the work.
[Pool House]A raised deck connects to the pool house at rear. Note bar and grill at left and fireplace at right.
[One of Two Pool House Full Baths]Both baths / changing rooms have bóvedas and are lavished with Talavera tiles.
[Pool House Deck]The pool house deck soars above the trees and bayou below.
[Side Elevation/ Gardens] Note the glass and wood slider doors that open from the dining room.
[Side Patio / Fountain]This charming stone patio and fountain adjoin the living room and study.
[Rear Elevation]A double-height wall of windows in the family room overlooks the rear patios and gardens, and two pools. Morelia stone comprises the patio hardscape and the walls.
[Rear Elevation]
[Pools]The two pools, one shallow and one deep, connect through an underwater tunnel.
[Patios, Pools]Tiered stone patios descend to the pool level. Additional steps reach down to the banks of the bayou. Boat sculptures surrounding the pools were sourced from Lake Patzcuaro in Mexico.
[Pools]
[Aerial View of the Pools]
[Garage]The garage provides spacious open bays for three vehicles and abundant work and storage cabinets plus a half bath.